Product Details
The Randy's Smart Charger is designed to fit your favorite 510-threaded vaporizers while providing the most efficient charge of all-time. These unique replacement USB chargers were created with rapid charging technology that will quickly give your vaporizer the juice it needs. Equipped with an auto-shutoff feature that will preserve the lifetime and full capacity of your batteries, this replacement vape pen charger will never overcharge your vaporizer or short circuit! The Randy's 510 Thread Smart Charger is super easy to use. Simply use the 510-threaded connection to screw the unit onto any compatible vape pen battery and plug the USB port into any suitable power source. This includes the wall adapter that comes with your smartphone or any laptop/personal computer. A red light will illuminate while your unit is charging and a green light will indicate that your vaporizer is fully charged. Whether your vape pen is in need of a replacement USB charger or just want to ensure your you have the best charger available, the Randy's 510 Thread Smart Charger will never let you down. 
Get Connected:
Randy's USB Smart Charger 🔌 
Fits any 510-Threaded Vape Pen
Rapid Charging Technology
Will Never Overcharge! 
Will Not Short Circuit
Auto Shut-Off
Easy to Use
Fast Charging
Bundle & Save!
Color-Coded Lights
Universal 510-Threading
Compact & Travel-Friendly
Replacement USB Charger
Durable Rubber & Plastic Build
Payment & Security
Your payment information is processed securely. We do not store credit card details nor have access to your credit card information.
Frequently Bought Together
Customer Reviews
Write a Review
Ask a Question
08/26/2020
Jerry M.

United States
Randy's products are in a class above all!!
I'm so glad to be able to have Randy's products to use every day to help me through my life everything is so much better now that I have the path and the glad thank you Randy for the wire I love you man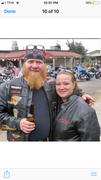 07/13/2020
Anonymous

United States
Not Universal
The quality is good build is okay but I tested this with some auto draw batteries and a puffco plus one and the plus one worked but the auto draws didnt connect for some reason even though the connections were properly seated.