Product Details
All you other Slim Shadys are just imitating. The LA Pipes Slim Straight Tube Bong is the real deal and features a unique, super skinny neck that sends your smoke rocketing upwards on every hit. LA Pipes, formerly known as UPC, has brought back this staple water pipe design, and there's no debate in its simple yet superb functionality. Proudly handmade in California from thick borosilicate glass, the LA Pipes Slim Straight Tube Bong is shaped like a scientific laboratory tube and stands a sizable 14" inches tall. 
The LA Pipes Slim Straight Tube Bong is equipped with a removable 6-slit diffuser downstem that effectively filters each hit through water as you light your dry herbs from the included 14mm bowl piece. A triple pinched ice catcher allows you to fill almost the entirety of the skinny laboratory tube neck with ice for extra cooling power! Embossed with the black LA Pipes decal on the top, this American-made glass bong comes with everything you need for big rips without breaking the bank. Don't settle for cheap imitations when you can snag the real Slim Straight Tube from LA Pipes!
Get Connected:
Compatible with Dry Herbs 🌿
LA Pipes Slim Straight Tube Bong
Premium Borosilicate Glass
6-Slit Diffuser Downstem
Laboratory Tube Design
Unique Skinny Neck
Built-in Ice Catcher
LA Pipes Decal
14" inches Tall
Easy to Clean
45° Joint Angle
Removable Parts
14mm Female Joint
14mm Male Bowl Piece*
Thick Scientific Glass Bong
3.5" inch Diameter Flared Base
Proudly Made in the USA [LA, CA]

*Note: Bowl piece style may vary from product photos.
Payment & Security
Your payment information is processed securely. We do not store credit card details nor have access to your credit card information.
Frequently Bought Together
Customer Reviews
Write a Review
Ask a Question
07/07/2021
Rakan D.

Canada
One of the best bongs in my collection.
This bong was strikingly unique at first, I've never seen anything like it, it's probably the tastiest smoke flavour you'll ever get. Comes with a bowl and a banger, and honestly, I understand why, this thing is a beast dab rig, crazy. I would give this bong 6/5 if I could, and its only 60-70$. Kudos to LA Pipes they killed it with this one!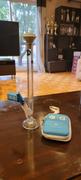 07/02/2021
Anonymous

United States
Slim Mini-Me
Sleek,and powerful with less calories than other 14" glass pieces. Very light weight, easily portable for sessions on the go, and really unique overall presentation. Works great with flower and the 7-10 split, and comes with a bowl and banger. The down stem has a total of six gills and is open ended for some intense, got milk style rips. Nice, tight seals for the down stem and bowl/banger, make creating fluffy clouds with minimal effort. Like do not let the size fool you on this one. It hits like bigger pieces without being bulky and is an attractive piece overall.