Product Details
Start your day the right way with a tall cup of Grav Coffee. This familiar coffee mug design is in actuality a highly effective bubbler that filters & cools your smoke with every draw. The Grav Coffee Mug Bubbler is made from thick borosilicate glass, and measures 7" inches tall from the base of the mug to the top of the straw neck mouthpiece. The alluring curvy glass airpath and fission percolator are built right into the mug's handle, transporting your smoke from the included 14mm Grav Cup Bowl Piece and through the water within the base. The main chamber provides ample space for your smoke to cool down while the coffee mug design provides a naturally comfortable grip. Part of the new Sip Series Collection from Grav, snag the Coffee Mug Water Pipe today and enjoy a pleasant smoking experience that always pack a punch!
Get Connected:
Compatible with Dry Herbs 🌿
Grav® Coffee Mug Water Pipe
Premium Borosilicate Glass
Fixed Fission Downstem
Internal Glass Airpath
Coffee Cup Design
7" inches Tall
Thick Glass
90° Joint Angle
14mm Female Joint
14mm Male Cup Bowl
Sandblasted GRAV Decal
Clear Scientific Glass Bong
Proudly Designed in the USA
New Grav Sip Series Collection
Payment & Security
Your payment information is processed securely. We do not store credit card details nor have access to your credit card information.
Frequently Bought Together
Customer Reviews
Write a Review
Ask a Question
09/15/2020
Anonymous
United States
08/22/2020
Anonymous
United States
Probably the Best Glass I've Ever Owned
I love this little bubbler. Can snap it like a bong or take small hits. Really easy to clean and looks so damn cute. My only problem I've had is the bowl piece, the size is actually perfect for this bubbler, but I have a hard time getting it thoroughly cleaned (lack of small cleaning tools) I bought the coffee mug and slush cup from this collection. I prefer the slush over the mug, but they are both really nice pieces that I highly recommend.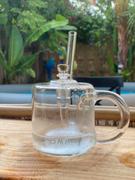 06/27/2020
Brent B.
United States
Grav mug is awesome
Love this mug, smooth hits and works with a dynavap with a 10 mm adapter!
06/08/2020
MacKenzie B.
United States
Fantastic wake and bake piece
well, I named him joe