Product Details
Appropriately named after the large craters that are formed after volcanic eruptions, the Grav Caldera Bowl can fit an astounding ½ gram of your dry herbs! This unique water pipe bowl is a stylized alternative to your standard glass bowl piece and available in your choice between 6 dignified colors. The Caldera's classy elegant shape isn't just for show as the extra-wide top design ensures every hit gets some greens. These water pipe replacement bowls are made from thick borosilicate glass that always stays cool to the touch while the ergonomic shape allows for easy handling. The Grav Caldera Bowl Piece features a 14mm male ground joint connection that fits any 14mm female joint water pipe. Upgrade your favorite glass bong and enjoy extra-large bowl packs with the Grav 14mm Caldera Bowl today!
Get Connected:
Compatible with Dry Herbs 🌿
Grav® Caldera Bowl Piece
Thick Borosilicate Glass
Large Bowl Capacity
14mm Male Joint 
Unique Design
Ergonomic Grip
Variety of Colors
Ground Glass Joint
Fits ½ Gram of Flower
Male Joint Fits Female Joints
Payment & Security
Your payment information is processed securely. We do not store credit card details nor have access to your credit card information.
Frequently Bought Together
Customer Reviews
Write a Review
Ask a Question
11/29/2020
Wagger
United States
Nice for use with an A-dab-ter or Dab-cap
I bought this bowl to use on my water bong when I use my adapter with a vape. The Dabcap or A-dab-ter attachment fits perfectly in this bowl and I get great hits. The color options are fantastic. I included a picture of the bowl with an A-dab-tear attachment in it. Shibby, shibby!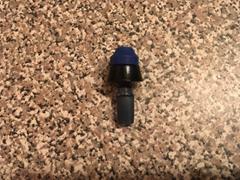 10/03/2020
Anonymous
United States
5 star Glass
This bowl piece is even better than described and looks twice as better in person , overall experience is great satisfaction with an event burn and no waist of green !