Product Details
This scientific glass water pipe from Grav comes with a ringing endorsement. Shaped like a large service bell, the Grav 9" Bell Base Beaker Bong features a straightforward design that uses a reinforced downstem to lead your smoke into a unique orb percolator housed within the base. The orb perc uses multiple downward facing holes within the cylindrical glass chamber to disperse your smoke through water, filtering and cooling each hit to perfection. The fixed orb perc also doubles as the perfect shape to replicate your bell's ringer! The neck of this water pipe is finished with a sandblasted GRAV decal and topped with an ergonomic, rounded mouthpiece that makes handling this piece a breeze. 
The Grav 9" Bell Base Bong may seem simple, but the delightful shape and flawless functionality makes this piece a knock out ringer. Each of these water pipes include a 14mm Grav Cup Bowl Piece for your dry herbs and work best with about 2" inches of water in the base. The tiered design prevents water from splashing out of the piece and the banger hanger joint makes it super easy to add a 14mm quartz banger for use with concentrates. Whether your in the service industry or just have an odd inclination with bells, the Grav 9" Bell Base Beaker Bong will have you covered.
Get Connected:
Compatible with Dry Herbs 🌿
Grav®
Bell Base Beaker Bong 
Premium Borosilicate Glass
Voluminous Bell Chamber
Ergonomic Mouthpiece
Natural Splashguard
90° Reinforced Joint
Fixed Downstem
Orb Percolator
9" inches Tall
Beaker Base
Straight Neck
4.5" inches Wide
14mm Female Joint
14mm Grav Cup Bowl
Banger Hanger Design
Sandblasted GRAV Decal
Thick Scientific Glass Bong
Proudly Designed in the USA
Payment & Security
Your payment information is processed securely. We do not store credit card details nor have access to your credit card information.
Frequently Bought Together
Customer Reviews
Write a Review
Ask a Question
05/27/2021
Dan F.

United States
Awesome Bong!
Very sturdy. Hold it from the bottom there's a nice groove for gripping! Rips like a champ and the globe Perc is awesome!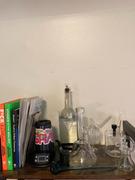 03/27/2021
Timothy D.

United States
You can ring my........
This is a truly unique piece. It has great weight to it with thick borosilicate glass from the top down. It also has great 360° percolation in the orb via 5 holes. One thing I would suggest to improve upon and really set this piece over the top is the addition of the 90° Grav Phoenix ash catcher. The reason is because of your particular preference to use this for flower or concentrate, for flower it may be a little close if you have long hair or a beard and with concentrate it wont be too much of concern but one thing is certain an ash catcher or a drop down works for all applications regardless. It's a beautiful piece and a good daily driver.
05/27/2020
steve j.

United States
Great Design
Resembles a bell shape, smokes nice and smooth.