Product Details
The Octobowl from Grav is a great way to upgrade or replace the bowl piece on your favorite 14mm water pipe. This replacement bowl piece features a built-in honeycomb screen that eliminates clogging and promotes an even burning of your materials. The Octobowl's substantial capacity is meant for large bowl packs and big rips. Every Octobowl is made from high-grade borosilicate glass with a worked glass pull handle for easy removal. The Grav 14mm Male Octobowl has a ground glass connection that will fit any water pipe with a 14mm female joint. 
Get Connected:
Compatible with Dry Herbs 🌿
Grav® Octobowl Bowl Piece
Thick Borosilicate Glass
Worked Glass Handle
14mm Joint Size
Built-in Screen
Deep Bowl
2" inches Tall
Large Capacity
Improves Airflow
Prevents Clogging
Sandblasted GRAV Decal
Male Joint Fits Female Joints
Replacement Water Pipe Bowl
Payment & Security
Your payment information is processed securely. We do not store credit card details nor have access to your credit card information.
Frequently Bought Together
Customer Reviews
Write a Review
Ask a Question
08/08/2021
Robert D.

United States
cons
I want to love this bowl but having a hard time doing so. Let's talk about the pros. Its fairly small compared to most bowls I've seen like this. Personally I think bowls are often too big. I hit my chillum in my bong, its a perfect dose imho. This bowl packs way more than I need but I can pack less if I want, great! You really won't need to worry about using an ashcatcher with this either, but this is where it goes down hill. After a few packed bowls, not super tight packs either very loose, it gets clogged hard. I'm a little ocd with my glass I clean my bong/bowl/downstem every day sometimes twice. That being said, when I run it through a rock salt/alcohol bath(ALL plastic travel coffee mug lol) for a few minutes it should come out spotless or close. Rinse out use paper towels or pipe cleaner to get whats left whatev. NOT with this thing sadly. Pipe cleaners, toothpicks, **** even interdental brushes won't fit through the holes. The take away here. Great rips without much ash getting through, but a major mission to maintain if you're the type that likes clean pieces. Well, after a few you won't have a choice but to clean it cuz it won't hit. :/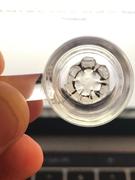 07/03/2021
Kevin S.

United States
Love it
Great bowl, built in screen, small enough to save flower, big enough to smack you after filling, packing, and smoking a full bowl
06/22/2021
Anonymous

United States
No screen, no waste!
Perfect bowl if you don't want dirty water and unburned flower.Go-to now. Got it here on sale when it wasn't in stock at any price from the manufacturer or elsewhere!
05/21/2021
Anonymous

United States
Grav® 14mm Male Octobowl
Great piece to the collection, made very well and does great with keeping ash out of my water!
04/12/2021
Robert M.

United States
Love it!!!!
Takes an extra minute to clean perfectly because of the slits in the bottom of the bowl, but that's only if your OCD like me and need it spotless. End of the day great innovation and great product!