Description
Just like its big brother predecessor, the Eyce Mini Beaker boasts a nearly indestructible design made from platinum-cured silicone that can withstand the clumsiest of smokers. At just 7.25" inches tall, the Eyce Mini Beaker features a more compact & travel-friendly design meant for on-the-go use. The silicone provides a naturally comfortable feel while the outside was fashioned specifically with the most ergonomic grip possible for safely passing around. The Eyce Silicone Mini Beaker Bong is fit with a removable diffuser downstem that filters & cools each rip within the beaker base, while the included 14mm borosilicate glass bowl piece is perfect for hearty packs of your dry herbs. This mini beaker bong sports a stealthy built-in stash jar at the bottom and an included steel poker tool that attaches right to the side. Combining smooth vapor production, futuristic functionality, and zero risk of damage if dropped, this silicone beaker bong is a no-brainer. Choose from a number of captivating color combinations to match any vibe and enjoy smooth rips paired with unprecedented portability from the Eyce Mini Beaker Bong today!
Get Connected:
Compatible with Dry Herbs 🌿
Eyce Indestructible Mini Beaker Bong
Multi-Percolating Filtration
Platinum-Cured Silicone
Stainless Steel Poker
Diffuser Downstem
7.25" inches Tall
Ice Catcher
45° Joint
Multiple Colors
Impact-Resistant
14mm Female Joint
14mm Glass Bowl Piece
Virtually Indestructible Bong
Built-In Stash Jar & Multi-Tool
Payment & Security
Your payment information is processed securely. We do not store credit card details nor have access to your credit card information.
Frequently Bought Together
Customer Reviews
Write a Review
Ask a Question
09/30/2020
Anonymous
United States
Perfect piece for the clumsy!
The number of phones I've broken over the years made the desicion to get this very easy. I'm very happy with its size and durability. The little extras like the false bottom and ice catchbis really cool and unique. Definitely worth it! I highly recommend these Eyce products!
09/02/2020
Nick
United States
The only word is Astonished
I'm astonished the quality that is put into these silicon items. I was a little iffy on weather to buy it so I started with the little guy and boy was I so damn happy!! Now I want all of them. Them need to do more bundles. No I sound like I'm in Pokémon and got to catch them all. *** **** I do recommend using a screen, but I will say it's nice that the hole is small. I can't say enough good things. You can't beat the price for basically an item you will have the rest of your life. Unless your friends steal them. Also side note this company is amazing thanks caliconnected!! Ps.s.ss or something, use ice, just shove it in and it's perfect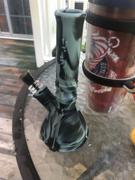 07/17/2020
Martin R.
United States
07/11/2020
Anonymous
United States
Great
Easy to use and to clean, I would definitely recommend it
06/13/2020
Bruce M.
United States
Excellent mini beaker
I was surprised how great this baby hits..use ice with this.. smoke is so cool you even know your hitting it till you exhale!! Nice addition to my collection