Diamond Glass
Diamond Glass 15" Bubble Barrel to UFO Perc Straight Tube Bong
Let the Bubble Barrel Bong from Diamond Glass meet all of your straight tube needs and then some with this unique 15" inch tall water pipe design. This straight tube bong features a reinforced joint that sends each hit through the fixed downstem and into the bubble barrel percolator within the base. The bubble barrel perc has an ultra-modern design that uses a Swiss cheese shape to filter & diffuse your smoke through water before it can move upwards and into the UFO perc housed within the central chamber. The UFO perc also has a modern twist, and works to give your smoke the final level of cooling power and moisture-conditioning it needs to always result in enjoyable, silky smooth hits. The Diamond Glass Bubble Barrel to UFO Perc Straight Tube Bong is rounded out with a Maria ring on the neck for an optimal grip, an included 18mm male bowl piece for your dry herbs, and a worked glass mili feature for mesmerizing style. This thick glass bong is finished with Diamond Glass Decals and arrives in your choice of colored glass accents on the bubble barrel percolator, UFO perc, flared mouthpiece, flared base, 18mm female joint & glass bowl piece handle. 
Get Connected:
Compatible with Dry Herbs 🌿
Diamond Glass Bubble Barrel Straight Tube 
Premium Borosilicate Glass Bong
Fixed Reinforced Downstem
Bubble Barrel Percolator
UFO Perc Chamber
Flared Mouthpiece
15" inches Tall
Mili Feature
90° Joint
Thick Glass
Straight Neck
Modern Design
Glass Maria Ring
Sturdy Flared Base
18mm Female Joint
18mm Male Bowl Piece
Choice of Colored Accents
Diamond Glass Colored Decals
Thick Scientific Glass Water Pipe
Proudly Made in the USA [California]
---
Share this Product
---
More from this collection
Customer Reviews
Write a Review
Ask a Question
06/27/2020
Floyd W.
United States
Jade Green
I ordered this piece in Jade Green because all of the purple ones were sold out. Now that I actually have the piece in hand, I'm so glad they they did NOT have the purple. The picture only give you an idea as to the artistry involved in this piece. If you know anything about Diamond Glass, then you already know that you're dealing with high quality scientific glass, very good artists with excellent craftsmanship skills and practicality/ ease of use all in one package. Add in the very competitive prices offered by Cali Connected, and for me, it was a no brainier. I used this with a Hi Si Glass ash catcher (temporary), and something not typical of me. I actually used the bowl (color matched,) that came with the piece. It is actually a decent sized bowl which surprised me. As expected, this piece was smooth. Excellent perculation and diffusion throughout. The bowl creates a little drag which is excellent because this a 19mm system. If you want to rip it, you can do this with this piece with ease; but as for me, I am not a ripper. I have a Maverick "splash less" showerhead ash catcher enroute for this piece. This is my first time purchasing from Cali Connected and it was a pleasurable experience. Fast shipping, careful and quality packaging, and very competitive pricing. I will do business with them in the future and I would definitely recommend them to anyone. I avoid local head shops near me like the plague because they are total idiots.
06/23/2020
helen h.
United States
My new favorite piece
I have a dab bong similar so I had to get the one for trees even though I rarely smoked it lol, until I got this piece now i buy and smoke more flower lol. Shipping and company was great as well! I will definitely be using them from now on. They have such a big selection, I seen this bong on another site but googled it. I didn't even know they had this many colors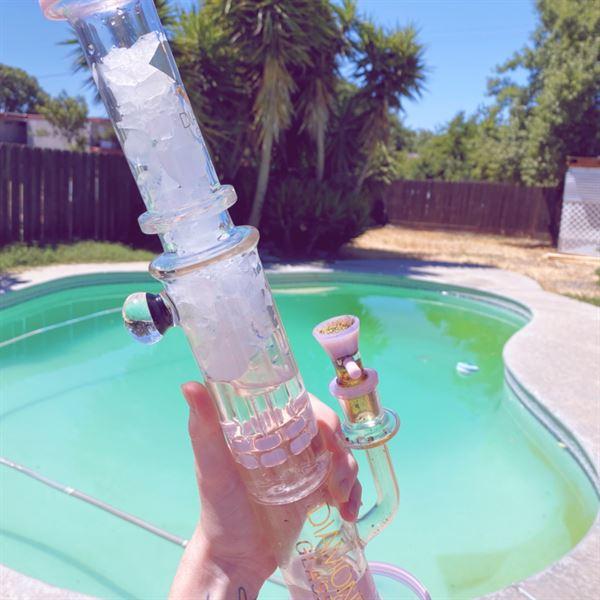 04/30/2020
Jeremy G.
United States
Excellent
The glass arrived very, very quickly and in perfect condition.
04/28/2020
Gavin I.
United States
I love this bong so much I bought two.
My cats broke the first one I had purchased, the yellow one. I was so sad because I love this bong. CaliConnected was the only shop to have this bong in stock for my second purchase and shipped it hella fast. If you're on the fence about this piece definitely get it. Smooth rips all day and I love the non-sandblasted male bowl piece. Adds a subtle but dope touch imo.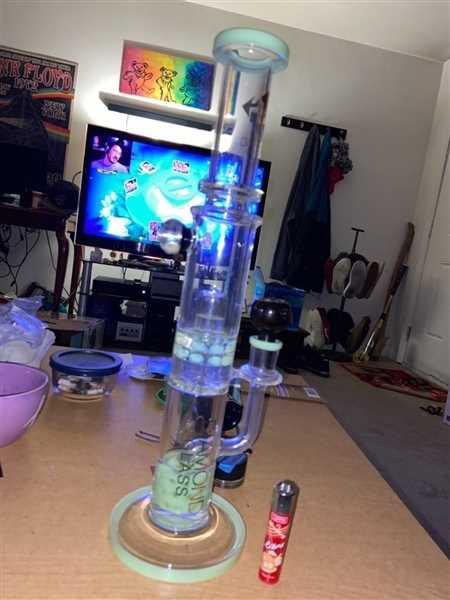 04/24/2020
Anonymous
United States
Amazing hits
Love the design, thinner glass than expected but very sturdy. Does not require a lot of water so I find it gets dirty pretty easily. Other than that, very much worth the price. Awesome percs and pretty decent size bowl