Diamond Glass
Diamond Glass 15" Bubble Barrel to UFO Perc Straight Tube Bong
Let the Bubble Barrel Bong from Diamond Glass meet all of your straight tube needs and then some with this unique 15" inch tall water pipe design. This straight tube bong features a reinforced joint that sends each hit through the fixed downstem and into the bubble barrel percolator within the base. The bubble barrel perc has an ultra-modern design that uses a Swiss cheese shape to filter & diffuse your smoke through water before it can move upwards and into the UFO perc housed within the central chamber. The UFO perc also has a modern twist, and works to give your smoke the final level of cooling power and moisture-conditioning it needs to always result in enjoyable, silky smooth hits. The Diamond Glass Bubble Barrel to UFO Perc Straight Tube Bong is rounded out with a Maria ring on the neck for an optimal grip, an included 18mm male bowl piece for your dry herbs, and a worked glass mili feature for mesmerizing style. This thick glass bong is finished with Diamond Glass Decals and arrives in your choice of colored glass accents on the bubble barrel percolator, UFO perc, flared mouthpiece, flared base, 18mm female joint & glass bowl piece handle. 
Get Connected:
Compatible with Dry Herbs 🌿
Diamond Glass Bubble Barrel Straight Tube 
Premium Borosilicate Glass Bong
Fixed Reinforced Downstem
Bubble Barrel Percolator
UFO Perc Chamber
Flared Mouthpiece
15" inches Tall
Mili Feature
90° Joint
Thick Glass
Straight Neck
Modern Design
Glass Maria Ring
Sturdy Flared Base
18mm Female Joint
18mm Male Bowl Piece
Choice of Colored Accents
Diamond Glass Colored Decals
Thick Scientific Glass Water Pipe
Proudly Made in the USA [California]
---
Share this Product
---
More from this collection
Customer Reviews
Write a Review
Ask a Question
04/30/2020
Jeremy G.
United States
Excellent
The glass arrived very, very quickly and in perfect condition.
04/29/2020
Gavin I.
United States
I love this bong so much I bought two.
My cats broke the first one I had purchased, the yellow one. I was so sad because I love this bong. CaliConnected was the only shop to have this bong in stock for my second purchase and shipped it hella fast. If you're on the fence about this piece definitely get it. Smooth rips all day and I love the non-sandblasted male bowl piece. Adds a subtle but dope touch imo.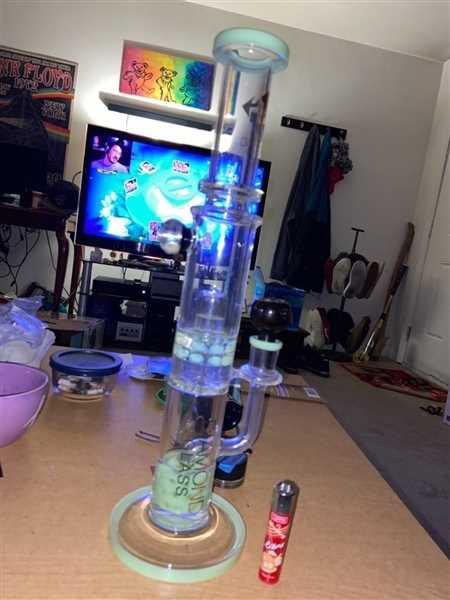 04/24/2020
Anonymous
United States
Amazing hits
Love the design, thinner glass than expected but very sturdy. Does not require a lot of water so I find it gets dirty pretty easily. Other than that, very much worth the price. Awesome percs and pretty decent size bowl
04/05/2020
Danielle F.
United States
Absolutely in love!
Great glass. Works wonderful. Fast shippiing.
02/26/2020
Anonymous
United States
Showstopper bong
Got accurate and timely updates on my package, beautiful American made glass, highly satisfied