Product Details
Drop the torch forever with the Hyer Big-E Rig! This must-have torchless dabbing accessory will easily convert your favorite glass bong or dab rig into a highly advanced and portable eRig vape. Simply attach your glass pipe of choice the patent-pending Hyer docking station and enjoy dynamic temperature stability that you just can't get with a torch. The Hyer Big-E Rig dock allows you to customize your dab sessions with precision temperature control between 320°F - 852°F, while a cordless design allows you to take this bad boy on the move. This exceedingly efficient eNail attachment comes with both male & female 14mm quartz bangers, an 18mm adapter, and an all-ceramic heating element that delivers smooth, flavor-rich rips from your finest wax concentrates.
The adjustable clamping mechanism of the Hyer Big-E Rig is compatible with 90% of flat based water pipes & dab rigs on the market, including both flared base and beaker bottom bongs. The Big-E docking station measures about 6" inches across and can fit water pipes as small as 3.5" inches in diameter and as large as 5.5" inches in diameter. While torches can cause combustion and introduce harmful particles to your dabs, the Hyer Big-E features a removable, all-ceramic heating element that vaporizes wax in safe & hassle-free manner. The 30W ceramic heating element is placed below the quartz banger and extracts optimal flavor & potency from your wax concentrates by heating them beneath the point of combustion. Enjoy the same potent rips of a dab rig with a smoother, more flavorful profile expected from an eNail vape. 
Operating the Hyer Big-E is infinitely easier than using a torch to heat your nails & bangers, and much more precise. The docking station is equipped with an adjustable clamp that attaches to the base of your water pipe or dab rig. You can widen the clamp to fit the base of your pipe by twisting the knob on the side of the Hyer Big-E counterclockwise. Once your pipe is in place, tighten the clamp by twisting it clockwise. Rubber buffers on the clamps that will properly secure your glass without doing any damage as you tighten. Now attach the one of the included quartz nails to the downstem of your glass pipe. The Hyer Big-E features male, female, 14mm, and 18mm compatibility thanks to an array of included accessories. The 30W heating element inserts into the banger beneath the nail where it is held in place by rubber o-rings.
To turn the Hyer Big-E Rig on, press & hold the power button down for 3 seconds and use the "+" or "-" buttons to choose a temperature. Then push the power button again to start heating up. The Hyer Big-E can reach temperatures as high as 852°F in as little as 90 seconds, delivering huge dabs from your glass pipes in no time at all. Lose the torch and start enjoying your dabs in a safer, portable, and more versatile way than ever before.
Still on the fence? Read our in-depth blog post here about the Hyer Big-E Rig and decide if this e-nail is the right fit for you!
Get Connected:
Compatible with Wax Concentrates 🍯
Made for Glass Bongs & Dab Rigs
The Hyer Big-E Rig - eNail Vaporizer 
Precision Temp Control (320°F - 852°F)
Adjustable Clamping Mechanism
Cordless & Portable
Torchless Dabbing
Easy Setup & Use
90 Second Heating
LED Function Indicator
Soft Silicone Traction Grips
Fits Flat Based & Beaker Bottom Bongs
30W Heating Element w. Rubber O-Rings
Built-in USB Ports Charges Other Devices 
Hidden Wax Storage Container & Dab Tool
Included Extension Cable for Taller Glass Pipes
Fits Base Diameters Between 3.5"-5.5" inches Wide

Hyer Big-E Rig Includes:
1 x Heating Element
1 x Docking Station
1 x 18mm Adapter
1 x Extension Cable
1 x Male Quartz Banger
1 x Female Quartz Banger
1 x USB Power/Charging Cord
Payment & Security
Your payment information is processed securely. We do not store credit card details nor have access to your credit card information.
Frequently Bought Together
Customer Reviews
Write a Review
Ask a Question
06/17/2020
Anonymous
United States
Best investment
So easy. Compact, and efficient. I love it
04/27/2020
Anonymous
United States
user
My shopping experience was excellent. I had some warranty issues and they were on top of it immediately. I would highley recommend CALI connected. The HYER BIG E works great
11/27/2019
Anonymous
United States
Big E Rig is legit.
Now that i've had it a few months with it, I can tell you that this thing is legit. It's pricey but worth it. It's exactly as advertised with no surprises. The only negative thing I can say about the E-Rig is that the ****** neck can be easily broken like any ******, but who knows how long this ****** will be supported and have replacements for sale. The ease of use is the best feature here. No torch, single digit temp manipulation and when it gets to temp it MAINTAINS the temp as long as you want. When your session is over, quick q-tip clean up and you're on you way. Absolutely recommend this product.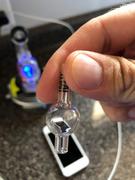 Best e-rig on the market
The hyer erig/enail exceeded my expectations and took my dabbing setup to another level. Includes top notch accessories to convert all your glass and the functionality is superb, not sure I can go back to dabbing with a torch and dab rig after using the this. Fit both my water pipes no problem. Well worth the money, cheapest price around and quick shipping.
Hyer Enail/Erig
I really wanted to use my favorite beaker bong with the Hyer enail, so despite the whole "fits 90% of glass pipes" part of the description making me really nervous, I figured I have plenty of smaller glass rigs and flat based water pipes around the house that something would fit. Not only did it fit my favorite glass but I have yet to find a glass bong or rig that it doesn't fit!!! I can't say it enough, the base is AMAZING. The time it takes to setup the Hyer Erig is extremely fast. It has awesome functionality and secure connections that fit my beaker bong so snug. I wasn't willing to pick it up with my bong attached at first because I was nervous about the unit falling off, but I moved past that pretty quickly and now it's become normal to pass around my glass with the Hyer enail already attached. The fact it includes all the necessary components to convert any piece was really great too because you don't have to go out of your way to order small parts to use the glass you already own. The only flaw I could find, if any, is the heat-up time could be a bit faster. 90 seconds doesn't sound too long until your sitting still waiting, then it feels like an eternity especially compared to some other enails on the market. If you remember to just heat it up as the first step of your routine then its not really an issue at all but worth mentioning.