Product Details
A classically shaped water pipe packed with quality form & function, the Grav Straight Tube Water Pipe will never let you down. This large & in-charge beast stands a full 16" inches tall and is made on thick 44mm diameter tubing. This Grav 16" Straight Tube is equipped with a honeycomb disc percolator for ultra refined diffusion and a geometric pressed pinch that serves as both a splash guard & ice catcher for icy cold rips. We recommend filling the the base of the bong with approximately 2" inches of water for minimal splash back & optimal filtration. This straight-based water pipe from Grav brings a clean & sleek look to a classic shape and arrives ready to rip with a 14mm male Grav Funnel Bowl. Choose between a classy clear body or get this water pipe with matching black accents on the base, honeycomb perc, and mouthpiece for added style!
Get Connected:
Compatible with Dry Herbs 🌿
Grav® Straight Tube Honeycomb Water Pipe
44mm Heavy Wall Diameter Tubing
High Quality Borosilicate Glass
Honeycomb Disc Percolator
Geometric Ice Catcher
Reinforced Joint
16" inches Tall
Clear Glass
Straight Neck
90° Joint Angle
Fixed Downstem
14mm Female Joint
14mm Grav Funnel Bowl
Thick Scientific Glass Bong
Sandblasted GRAV Decal on Neck

Payment & Security
Your payment information is processed securely. We do not store credit card details nor have access to your credit card information.
Frequently Bought Together
Customer Reviews
Write a Review
Ask a Question
08/21/2020
Jay L.
United States
Grav 16" straight tube bong w/black accents
Great Big Bong! Takes some time to get used to, but it's worth it! Gives you a fantastic HUGE hit. It's a gorgeous piece of glass!
06/10/2020
Tony A.
United States
Great bong
Hits are smooth and it just looks great!
05/27/2020
Anonymous
United States
Grav does it again!
I've had several Grav pieces and I think this is the best one yet, smooth and clean!!
05/13/2020
Anonymous
United States
So sophisticated
My overall experience using the Grav® 16" Straight Tube Honeycomb Perc Water Pipe is pleasurable. The design is sleek and nice to admire. I opted for the 16" to avoid the nasty splash back from reaching the users lips. It comes with a martini glass shaped bowl piece which has enough packing room for 4 people to corner. My only complaint is for the bowl piece not having a handle or built-in glass screen. The main attraction is the honeycomb percolator which users will appreciate. Shout-out to Grav for this solid piece and CaliConnected for price matching another head shop!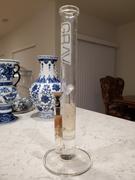 03/03/2020
Ramon Gonzalez Jr.
United States
FAST SHIPPING. AMAZING BONG
One of the best bongs I've ever owned! Awesome products and I'll be ordering more in the near future.