Famous Brandz
Snoop Dogg Pounds LAX Bong
Capitalizing on the major success of their first collaboration, Famous Brandz has teamed up again with Snoop Dogg to create their 2nd generation of high performance water pipes. Similar to the first line of Snoop Dogg Pounds water pipes that focused on intergalactic journey, these super stylish designs for 2019 were each named after iconic airports around the USA. Medicate, elevate, and put it in the air with the brand new Snoop Dogg Pounds LAX Bong.
The Pounds LAX features an unmistakable 11" inch tall body that resembles an upside-down beaker bong and stands atop a sturdy 4.25" inch flared base. Equipped with an inline ruffle percolator that operates similarly to a showerhead perc, the LAX is primed & ready to provide you with big tasty rips and clouds as far as the eye can see. The Pounds LAX Bong also features a unique 45° blown-out mouthpiece for maximum style and control. Accented in your choice of bold colored glass, this Snoop Dogg Pounds Bong is a truly unique water pipe that'll have you feeling like a movie star. This is how California rolls.
Get Connected:
Compatible with Dry Herbs 🌿
Snoop Dogg Pounds LAX Water Pipe
Famous Brandz x Snoop Dogg Collab
Premium Borosilicate Glass Bong
Multiple Brightly Colored Accents
45° Fixed Diffuser Downstem
45° Blown-Out Mouthpiece
Inline Ruffle Percolator
Sleek Modern Design
11" inches Tall
14mm Female Joint
14mm Glass Bowl Piece
Sturdy 4.25" inch Flare Base
Custom Collector's Box Included
Snoop Dogg's Signature Decal & Pounds Logos
---
Share this Product
---
More from this collection
Customer Reviews
Write a Review
Ask a Question
07/03/2020
Brenton P.
United States
Ready for take off!!
This water pipe is ! Really nice thick stacks with super sick percolation. Got that LA Purple to represent my home town and every time I take it any where I get a ton of compliments. Super smooth and it cleans like a dream. I literally have 9 different name water pipes and this one has become my favorite. Frank Sinatra would approve
04/23/2020
Anonymous
United States
Smooth like butta
Super dope piece by Snoop would highly recommend. This is my second personal bong purchase, but I've tried many others as well and I've never had a smoother hit than on this one. After searching for hours I was back and forth between a few, but decided to pull the trigger because of the sale and am so glad that I did!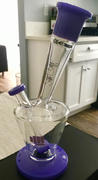 04/22/2020
Miranda
United States
Overall awesome
Received this piece in a very timely manner, as well as updates through every step of the mailing process. I purchased this bong on sale for a great price. This piece came in very sleek and well designed box, safely packaged, as well as a free gift! This piece is designed with purpose, and it shows through in every use. The purple is just a plus! I don't think I'll buy a different brand of glass again, definitely purchasing from this company again!
04/18/2020
Drew H.
United States
Snoop's LAX
Fantastic bong, great price, and fast shipment. I even received a card about a month later thanking me for my purchase...nice touch.
01/23/2020
Rachel L.
United States