Empire Glassworks
Empire Glassworks Beehive Mini Bong 🐝
Best beehave yourself around this piece or you might get stung! The Empire Glassworks Beehive Mini Bong features highly detailed bee-themed artwork with an overzealous amount of dripping honey and various glass worker bee accents throughout. Measuring 6" inches tall, the Beehive Mini Bong is uber compact and easy to transport, fully equipped with a fixed diffuser downstem that filters each rip through water within the clear glass body. This buzzworthy water pipe is topped off with none other than a worked glass beehive that serves as a comfortable mouthpiece. Like every water pipe from Empire Glassworks, each accent is individually handcrafted with premium borosilicate glass and custom mixed colors that create a truly unique piece of art.
The Empire Glassworks Beehive Mini Bong includes a matching 14mm honeycomb bee themed flower bowl with a worked green leaf handle for your dry herbs. Your bowl piece is held upright by a color matching reinforced downstem on a 90° angle. The smaller air path and 90° banger hanger joint make this water pipe an excellent choice for converting into a dual compatible dab rig using a 14mm male quartz banger. See for yourself what all the buzz is about with the Empire Glassworks Beehive Mini Bong today!
Get Connected:
Compatible with Dry Herbs 🌿
Empire Glassworks Beehive Mini Bong
Dripping Honey & Worker Bee Accents
Handmade Beehive Mouthpiece
Premium Borosilicate Glass
Hand Mixed Glass Colors
Fixed Diffuser Downstem
Reinforced 90° Joint
Clear Glass Body
6" inches Tall
Flared Base
Limited Availability
Banger Hanger Design
14mm Female Ground Joint
14mm Honeycomb Bowl Piece
Individually Handcrafted Art Piece*
American Made Glass [Placentia, California]


*Note: Every Empire Glassworks creation is individually handcrafted down to the finest detail leading to slight variations in color & design. Each piece comes out slightly different than the last, meaning the one you choose is guaranteed to be one of a kind!  
---
Share this Product
---
More from this collection
Customer Reviews
Write a Review
Ask a Question
07/29/2020
Gregory S. Robles
United States
Delivered!
First, CaliConnected matched a price for an item I had previously purchased from another vendor. Second, from order to receipt of my purchase took a total of 4 days. My previous order has been in Pre-Shipment status for more than 2 weeks. So I can say CaliConnected can deliver. The Honey Bee themed mini rig/bong is a beautiful piece of art at least to my senses. I developed an affinity for bees and this water pipe as I was squishing my own flower for concentrate vaping. It smokes herb and concentrates (it's a good size for concentrates as well standing at 5.5 in.) and smokes like a pro and delivers as well. Well maybe it's me that smokes like a pro but this rig delivers. Cali-Connected is now my go to head shop particularly with the use of Sezzle and price matching!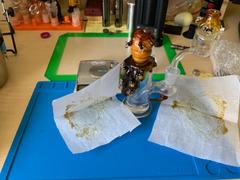 06/24/2020
Anonymous
United States
Beeautiful
It's so cool and looks exactly like photos.